Photo by As You Were Photography
"Release The Sheet"
Learn to Learn by Ear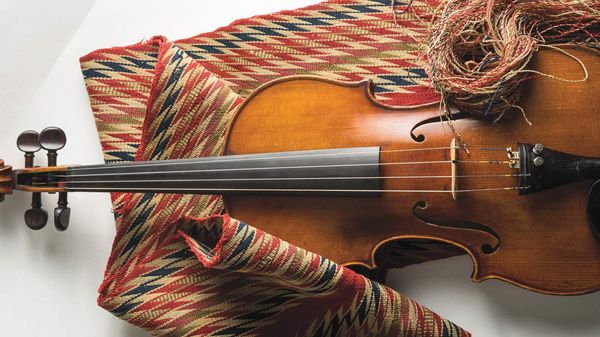 "Patti, your 'Release the Sheet' class was the spark plug I needed to take on the daunting task of finally letting go of my musical disability crutch….sheet music! After those weeks with you…there was no stopping me. I am very happy to say that I rarely use "the dots" anymore. Once learned, a tune is now just part of me…no memorization needed.  Every fiddler who wants to 'Release the Sheet' needs your class!" Valerie, Edmonton, AB
Sometimes we fiddle players are nestled in our nice, safe comfort zones and we are hesitant to venture out and try a new concept. I have had many students over the years who have come to me in order to learn how to learn by ear, and once it starts happening, there is such a huge world of learning that is opened up.
Back by popular demand, this "Release the Sheet" workshop series is geared to the fiddle player who is reliant on "the dots" and has felt they were never able to learn by ear. When you go to a jam session, you lug around your heavy binder of fiddle tunes, or maybe 6 or 7 books and a stand, just in order to play along.  After the jam, the book or binder closes and the tunes are gone as well.
There are ways to overcome your Dot Dependance and I'm here to help!
4X1 hour workshops
Tuesdays 5:30PM CDT
August 16
August 23
August 30
September 6
Cost:  $206CAD via web site; $200 via e-transfer.
CLICK HERE TO MAKE WEB SITE PAYMENT
Minimum Enrolment Required
Want to learn fiddle from me?  Now you can!  Check out the Fiddlevideo website to see all of my lessons.  Use Instructor Code "PATTI" at checkout to receive a free month when signing up for the three-month subscription.  Use Instructor Code "PATTI20" at checkout to receive $50 off your first year when signing up for an annual subscription.  Also, be sure to indicate me, Patti Kusturok, as your instructor that you're most interested in learning from.  You can still access the entire site's lessons from any instructor.  
Patti offers private fiddle lessons for intermediate and advanced level fiddlers in her home in Winnipeg, Manitoba, Canada.  Thanks to the technology of today, Patti also offers private online fiddle lessons anywhere in the WORLD via Skype.  With students across Canada, the US, and even overseas, Patti keeps busy passing along the tradition of Canadian fiddling globally.
"As a mom of two girls who are involved in everything, I love Skype lessons with Patti Kusturok!! What a time saver, Tayler sits down at our computer and does a half hour lesson, no driving around to lessons for us anymore. For our busy household this is perfect! And it also helps that Patti is an extremely talented musician and instructor"....Parent, Rural MB
"As a developing fiddle player, I was a little wary of Skype lessons in the beginning. However, after 6 weeks of lessons, I think they are fantastic! No more driving around, and Patti is always on time. Even though she is hundreds of kilometers away, it feels like she is right in my living room giving me my half an hour lesson. All in all I have come to like the Skype lessons through Patti"....Student, Rural MB
Skype is free to download and to use, and as long as you have a good Internet connection and microphone, lessons are easily done.
"Taking fiddle lessons with Patti has changed my playing entirely! Just after 6 lessons, I feel like I have come leaps and bounds from where I started. She gives insightful advice and is very knowledgeable of all things fiddle related. I learned the 'Old Reel of Eight' before my lessons with Patti... not many people liked it, but after four lessons with Patti I had the same people asking, "what is the name of that tune?!"...Student, Edmonton
"When I first thought about fiddle lessons via Skype, I was really worried that I wasn't good enough or that I just wouldn't be able to "get it". Patti has let me choose all my tunes, and she breaks down the melodies in a way that I'm able to learn the notes and the phrasings all at the same time. Every lesson has a natural flow that never seems too fast or too slow and is tailored to my abilities. It has become so much easier to learn new tunes at workshops, on my own, or at fiddle jams. More recently, other players have been noticing a big improvement with my playing, and that's been really encouraging."...Student, Rural Alberta
"I started to learn to play the fiddle about 4 years ago after being inspired by a performance while on holiday in Canada. That weekend, I purchased a fiddle and some Canadian fiddle music thinking I could just learn to master it on my own. I have taught piano and composition for years so learning to master a new instrument was exciting. But excitement and good intentions are not enough! What I really needed was another set of ears and eyes to help mentor me, watch me play and show me a better way of doing things. There are few good fiddle players in my area but being a good fiddler doesn't automatically mean you are good teacher. What I really wanted for myself was a great teacher which meant having to explore the use of online learning. Frankly, I was a little bit nervous about the quality of my lessons via Skype but the technology is so good now that I really don't feel one bit harmed by not being in the same space. Plus, it is rewarding to not have to pack up my things. I am able to invite my teacher Patti into my home without the burden of travel!"...Student - Florida, USA
For more information, or to set up your first fiddle lesson, please Email Patti.